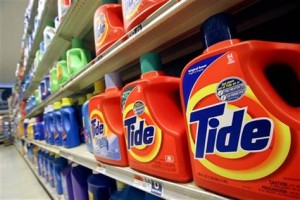 Americans wash about 35 billion loads of laundry per year. That amounts to an estimated 100 million tons of clothing and linens, according to research conducted by a company that should know. After all, Procter & Gamble is the manufacturer of some of the nation's leading brands of laundry detergent, including top-ranking Tide.
For the first half of the 20th century, washing clothes was a necessary but laborious manual task. Today, the task is no less necessary, but it's a lot easier, with the result that we probably do a greater volume of laundry on a per-capita basis.
Americans can choose from many brands of detergents that offer different benefits. Some focus on keeping colors bright, some on ridding clothes of stains, and yet others on odor removal. Some smell nice; some are fragrance-free. Most brands now come in environmentally friendly concentrated refill packaging; some come in monster sizes at warehouse stores.
Whatever the type, it's no surprise that households with children use more than their share of laundry detergent. Those with children under age 6 are 35 percent more likely than their household share would predict to buy powdered detergent, according to A.C. Nielsen. Those with children aged 6 to 17 are 46 percent more likely to buy, and those with only teenagers are 39 percent more likely. Households with kids aged 6 to 17 buy more than their expected share of heavy-duty liquid detergents. Procter & Gamble is well aware of the link between youngsters and soiled clothes. It is celebrating Tide's 50th anniversary this year with a search for the "dirtiest" kid in America.
Singles are less likely than expected to buy laundry detergent, finds Nielsen. But this doesn't mean they walk around in dirty clothes. Many singles live in housing units without laundry facilities. Many of them do their wash at coin laundromats, where they often buy single-use detergent packages from vending machines. Since Nielsen's consumer panel respondents most likely don't bring the packages home and scan them as they do with the packages they buy at grocery and other retail outlets, these purchases are often not captured. "Almost all coin laundries vend these products on site," says Brian Wallace, director of communications for the Downers Grove, Illinois-based Coin Laundry Association. "They move very briskly. After all, what happens when you get to the laundromat and you discover that you have forgotten your detergent?"
The U.S. has about 35,000 coin-operated laundries, says Wallace. Most are located in urban areas with large renter populations. "People who don't own their homes do not usually own major appliances," says Wallace. This explains why singles, especially those under age 35, are less likely than average to buy big boxes and jugs of laundry detergent. They are much more likely to log hours at the laundromat.
Dirty Laundry: Statistics on Laundry Detergents at Laundromats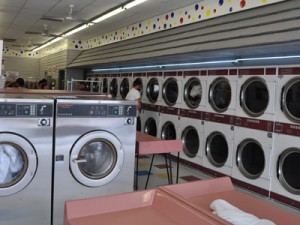 Consumers have become much more concerned about how the products they use impact the environment in recent years. Unfortunately, it can be difficult for even highly educated consumers to find out just what ingredients are in certain products, and how they might impact the environment.
Take the leading brand laundry detergents. You certainly wont get a straight answer by looking at the ingredients label, where you typically find the following cryptic message: Ingredients include surfactants (anionic and nonionic) and enzymes.
We cannot provide you with specific ingredients used in Tide or other name brand laundry detergents, for a couple reasons. First of all, companies are not required by law to list their ingredients, and claim that their formulations are confidential. Secondly, the ingredients they use change periodically, whether due to reformulation or simply the use of alternative ingredients to reduce costs. However, the following list of ingredients commonly used in the leading brands, along with a description of how they impact the environment, should give you a good idea of whats really inside:
Development of the Detergent Industry
http://www.root-cn.com/Laundry-Ball-Knowledge/Development%20of%20the%20Detergent%20Industry_57.Html
Colonial Soap Making. Its History and Techniques.
http://www.root-cn.com/Laundry-Ball-Knowledge/Colonial%20Soap%20Making.%20Its%20History%20and%20Techniques._255.Html
Treatment for Individual Stains
http://www.root-cn.com/Laundry-Ball-Knowledge/Treatment%20for%20Individual%20Stains_636.Htm
All Purpose Laundry Stain Remover
http://www.root-cn.com/Laundry-Ball-Knowledge/All%20Purpose%20Laundry%20Stain%20Remover_156.Html
http://www.root-cn.com/Laundry-Ball-Knowledge/Laundry%20Detergent%20Ingredients_148.Html
http://www.root-cn.com/Laundry-Ball-Knowledge/Fabric%20Softener_11.Html
http://www.root-cn.com/Laundry-Ball-Knowledge/Why%20Laundry%20Disks%20Don't%20Work_219.Html